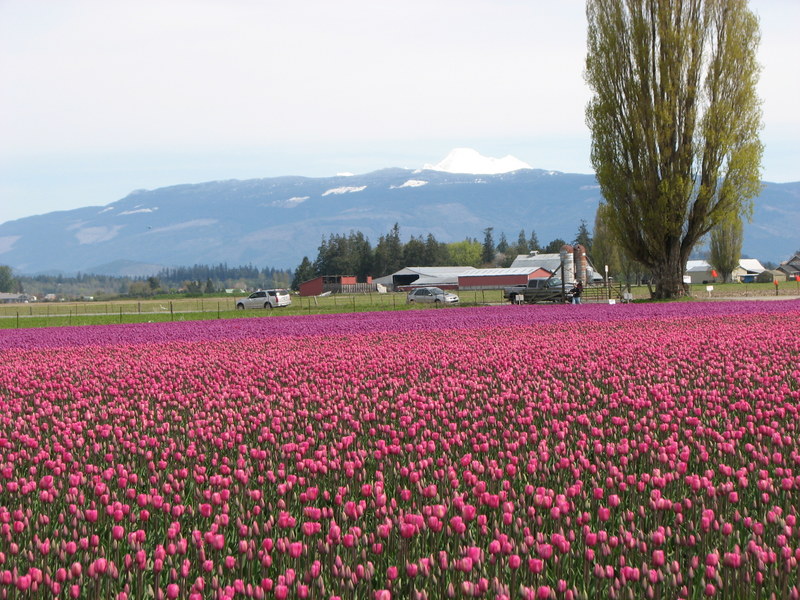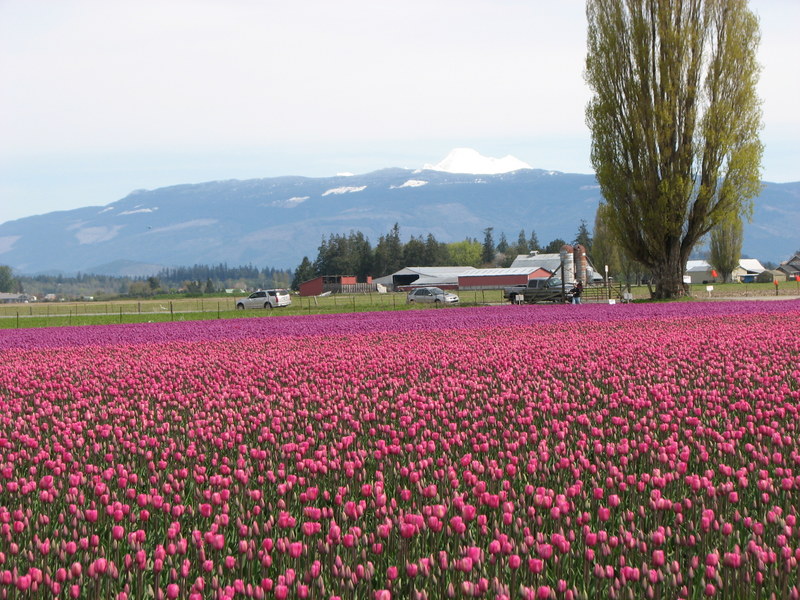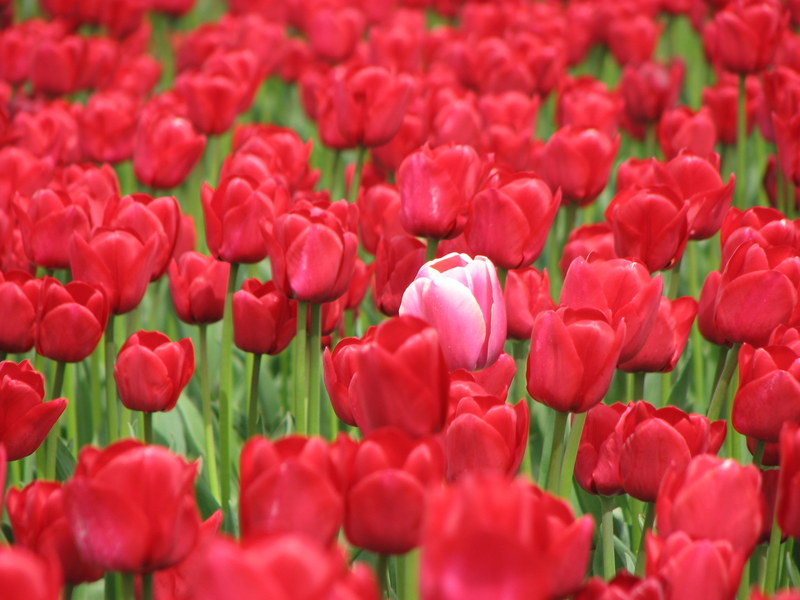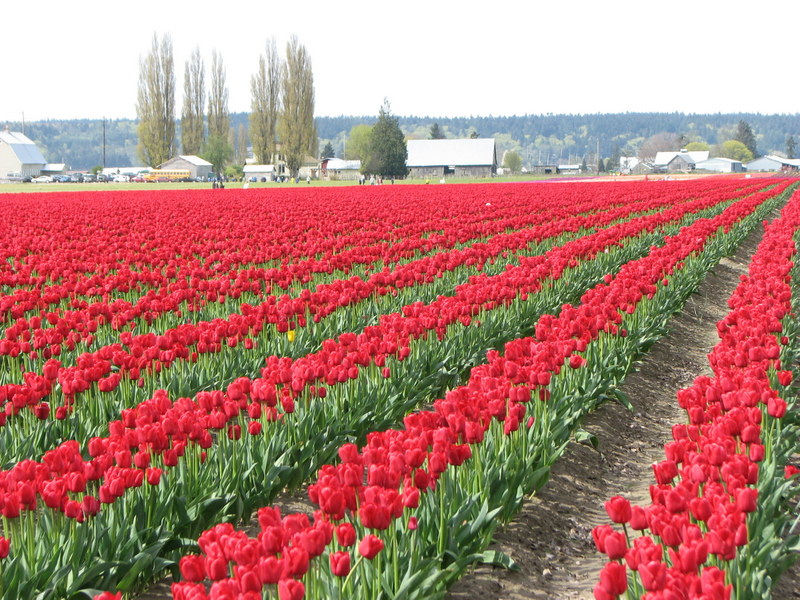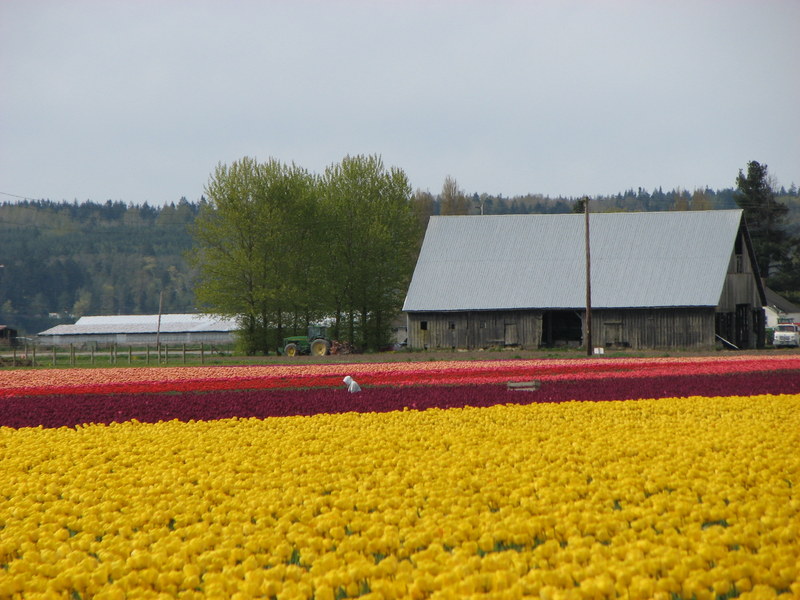 This past weekend concluded the yearly Skagit Tulip Festival consisting of beautiful scenery and fun events. Hopefully you had a chance to enjoy the stunning beauty that is bestowed upon us each year. If not, set your calendar for next April so you won't miss out. Above are a few of my personal pictures from this season.
So you decided it's time to move for any number of reasons. Now it's time to find a real estate agent to help. As the average person know 9.2 real estate agents, how do you decide which one to choose? Coming from a seasoned agent, here are a couple of pointers.
First, use someone who has the Realtor designation. This person has opted to be a part of a nation-wide group called the National Board of Realtors, which holds its members to a higher standard of ethics then those who are not members. Don't you want to work with someone that excels in ethics? Of course you do.
Next, choose an agent that has chosen real estate as their career – where real estate is a full time job, not just a hobby. Shockingly, 73 percent of real estate agents have another job. These agents have limited knowledge and experience which may negatively affect the outcome of your transaction. They also don't have the time to devote to your situation. Would you go to a part time doctor for surgery or a part time lawyer for important legal advise? I don't think so. Why risk a horrible experience that can be financially damaging on your largest lifetime investment.
Experience is key. While there are many components in a real estate transaction that are constant (filling out paperwork, arranging photography, holding open houses), other areas need expertise. An agents experience really counts when it comes time for negotiating, which happens all throughout the transaction starting with the initial offer, then the inspection and right through to the closing. Coordinating the various steps of your transaction can be daunting, but not for an experienced agent. We've been doing this long enough to know how to get things done.
And lastly, what is the reputation of the Realtor you are considering? Do they come recommended or are you just taking a shot in the dark? Align yourself with someone you feel you can trust. This might come via a personal referral or maybe you read glowing recommendations on websites that are client driven such as Trulia or Zillow. You will be spending a lot of time with your agent and making some pretty big decisions with their help. Equally, you must trust them to make decisions on your behalf throughout the entire transaction. Are you satisfied with their capabilities?
In the end, what is personally important to you in your Realtor. Experience? Commitment? Designations? Recommendations? Probably a combination of all of these. It's best to interview a few candidates to see which one is most compatible with your needs. Ask tough questions and listen carefully to their answers. One thing for certain is that you should be looking for a trusted counselor to skillfully guide you through the entire process, not just a facilitator of paperwork. Take the time up front to work through this process and you are bound to enjoy a smooth real estate transaction.
Although Bellingham is a relatively small town, we are blessed with a wonderful array of artistic expression from art galleries to on-stage theater. One such treasure not to be missed is the Mt Baker Theatre. Opened originally in 1927, the theatre continues to host a variety of venues throughout the year that the entire family can enjoy. Being the largest performing arts facility north of Seattle, art enthusiasts can find a wide selection of drama, dance and music choices offered monthly. This link will take to you to the 2014-2015 season events: http://www.mountbakertheatre.com/events/season-brochure.
And this weekend the theatre is presenting the whitty production The Underpants at 7:30 pm. Tickets are still available ranging starting at $25. Give them a call at 360-734-6080 or buy tickets on line at http://www.mountbakertheatre.com/events/2015/mbt-presents-jekyll-hyde. Enjoy your weekend and maybe I'll see you there!
As I officially welcome in the new year and set about creating a plan for a successful 2015, I think it is key to look back over the last year and see where the real estate market is trending. The general feeling within our industry is one of optimism. And with reviewing the progress made from December 2014 to December 2015, I can understand why. Let me share this with you.
There are a number of key factors showing growth in our markets here in Whatcom County. When comparing this December with last December, the number of homes pending are up by 31% and the number of homes closed are up by 18.2%. During this same time frame, we have also seen a rise in price per square foot for homes sold – from $148 to $155. Then we are witnessing the decrease in our current inventory this year, from 5.7 months of inventory to only 4.6 months today. The graph below shows monthly inventory and monthly solds. All of these factors combined with historically low interest rates (30 year at 3.875%) help to create a great opportunity for sellers.
Buyers can also benefit from the current market by taking advantage of the low interest rates. Within the past few months, banks have loosened their "death" grip on the money they have to lend. As well, the Federal government has declared a substantial decrease in private mortgage insurance (required by all lenders for borrowers with less than 20% down) which gives you more buying power. Wonderful programs such as USDA & VA zero down loans and FHA 3.5% down loans are now available to qualified borrower.
Buying and selling real estate is a process. An educated buyer or seller is definitely a more satisfied client. Let my 23+ years of working with people just like you to find the perfect fit become your wealth of information. Call me to begin formulating your plan for success – 360-961-8052 or leslie@lesliehobkirk.com .
As we ring in the new year, it is a great time to evaluate where your hard-earned dollars are going each month and whether there is a way to decrease the outflow. One such way is to take a look at your current water heating system and it's functionality. Does it need to be replaced? Should it be upgraded? The information below (provided by Jefferson Livingston owner of Pillar to Post in Bellingham) may be useful in helping you determine what is right for you.
WATER HEATING & ENERGY USE Given that as much as 25% of household energy costs are for water heating, it makes sense to evaluate various types of water heating systems with an eye toward saving both energy and money. Here we take a look at some of the options currently available for homeowners to consider.
Storage Water Heaters These are the most common type of water heater. In these systems, cold water flows into a tank where it is heated by gas or electric power. Once the water in the tank reaches the desired temperature, the heater will cycle on and off to maintain the temperature of the water. As hot water gets used, more cold water will enter the tank to be heated. Most of us know the phenomenon of running out of hot water after family members take one shower after another; this will occur if the tank's storage capacity is insufficient to meet the demand. At other times of the day when relatively little or even no hot water is being used, the heater must still fire on and off to keep the contents of the tank hot. Unfortunately, it is quite inefficient to keep a tank of water hot all day even when the water isn't needed. Adding an insulated water heater wrap can boost efficiency and energy savings – these are inexpensive and can be installed by the homeowner.
Tankless (Demand) Water Heaters Tankless or demand water heaters are just that. Water is not stored in a tank, but is rapidly heated by gas or electricity once the faucet is turned on. For many homes, a tankless heater can be located close to the sink or shower to heat water on the spot. Because it reaches the desired temperature so quickly, much less water is wasted while waiting for hot water to flow through the faucet. Tankless heaters powered by gas are usually much more efficient than electric heaters – in fact, electricity costs can sometimes negate much of the savings a tankless system might otherwise provide. Tankless systems normally cost more than a conventional storage water heater, so homeowners should research what type, size, and location makes the most sense for them.
Solar Water Heating The basic concept of solar water heating is that the sun's energy is used to pre-heat water for the home. The pre-heated water then flows into a solar tank that monitors temperature. Then it is piped into the regular hot water system, usually a storage water heater. If no water is turned on within a brief period of time, the water circulates through the system again, making it unnecessary to keep a large tank of water constantly hot. The pre-heating is done by one or two solar panels, usually installed on the roof. Solar water heating is becoming more and more popular as costs for the systems continue to decrease. By some accounts, including the California Energy Commission, a typical solar water heating system can pay for itself in as little as four to seven years.
No matter what type of water heating homeowners choose, it pays to do some research first to discover the ins and outs of various types for their specific situation. With efficiency and decreased energy use as a goal, the best choice of water heater depends on what pencils out in any given home.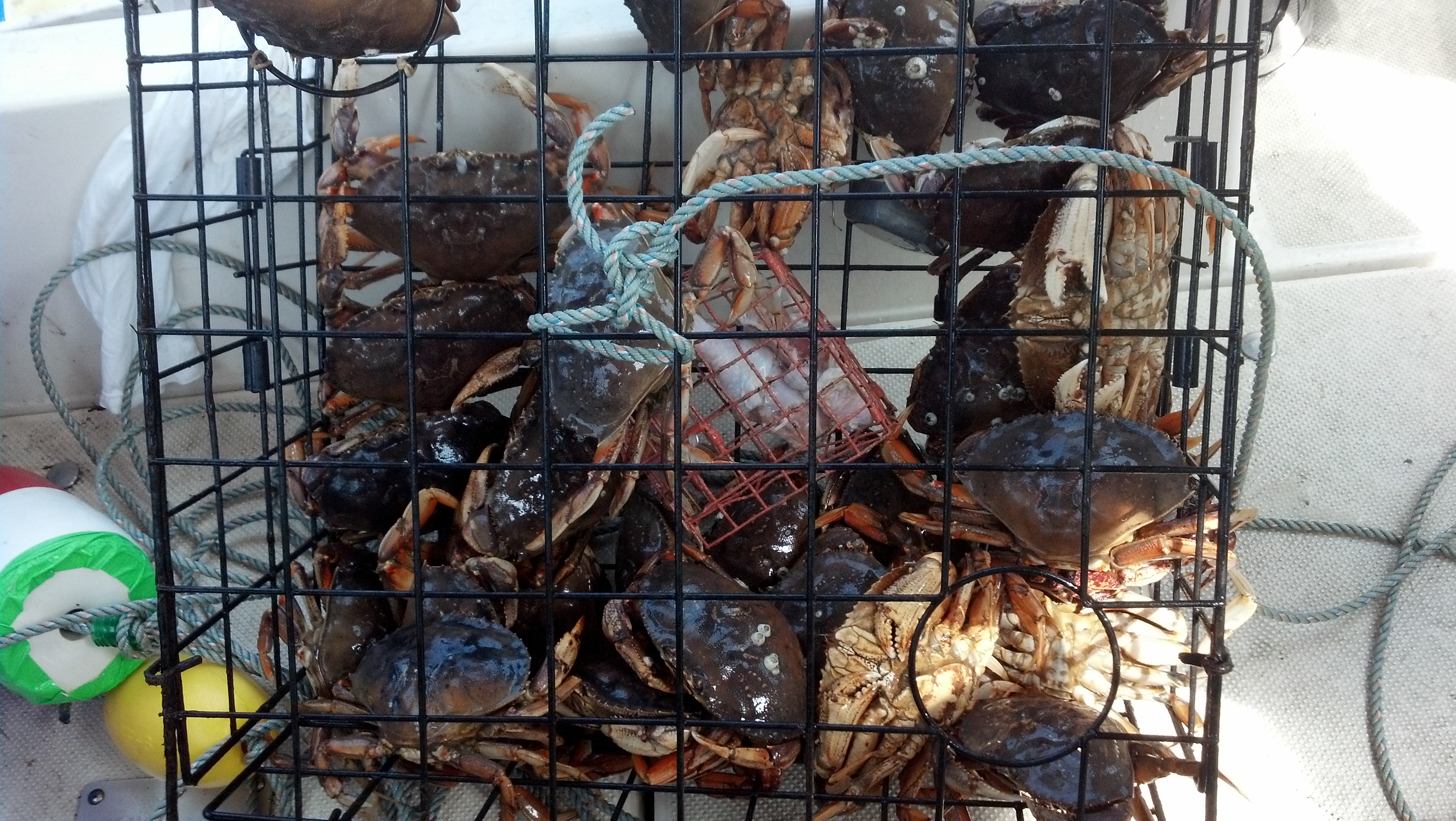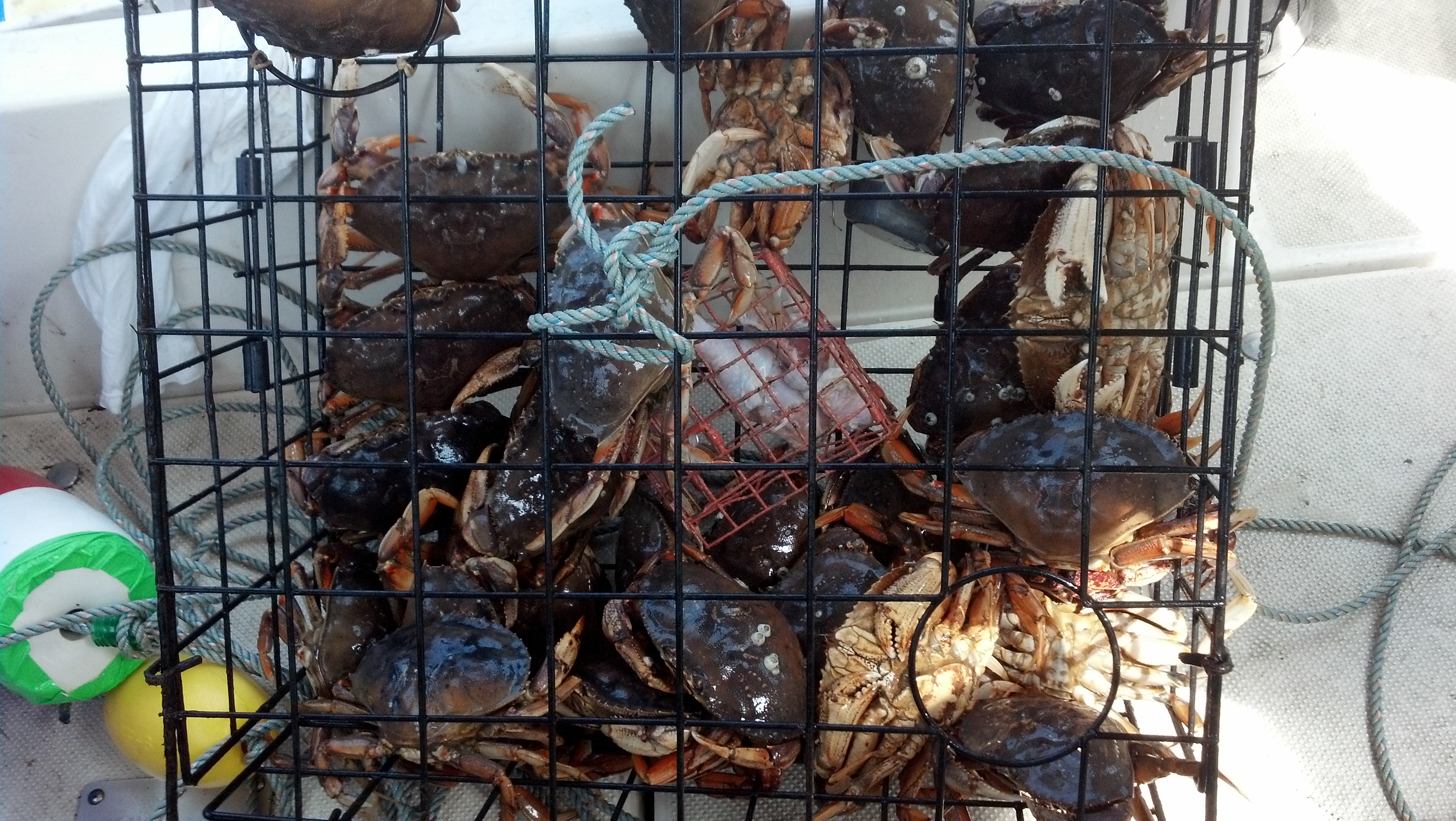 One of the great highlights of our family's summer is heading out on Bellingham Bay in our boat. There are so many wonderful sights to see from the beautifully undisturbed scenery to the active marine life – dolphins, jellyfish, seabirds and jumping fish. But the best sight of all is that of the creature that dwells at the depths of the Bay – the NW Dungeness crab! We anxiously wait for the opening day of crabbing on July 1st and reluctantly say goodbye on September 30th. But not this year! After checking with the www.wdfw.wa.gov website, I see that Dungeness crab harvesting has been extended until the end of the year – December 31st – and is now seven days a week!
The crabbing ritual is quite a production. The first thing is to make sure that the weather, wind and waves are going to cooperate. I check the Bellingham Bay cam and weather station information on the internet multiple time while getting ready. As we have found out the hard way, Bellingham Bay can be very unpredictable and downright scary at times. While the husband is busy getting the boat and gear ready for our excursion, I am responsible for snacks (everyone's favorites must be on board), layers (make sure everyone has a jacket even if it is 80 degrees outside because you never know…), crab bait (do they want turkey legs this time or salmon chum) and crab transportation devices (what will we carry our bounty home in?). There is one last stop on our way to the marina launch – yes, there must be enough gas to get us to the hunting grounds and back. We stop at our favorite gas station to fill up. Now we're ready to go!
Time to launch. This can be a bit tense at times. I've mastered the backup technique by now, but still have a difficult time reading the minds of those also launching or coming back in. Patience is the key. Once in the water, it's time to head out to our favorite spot – Eliza Island. During the 17 minute ride out to the island, I am busy stuffing the bait boxes in the crab traps (got to make it irresistible) so that we are ready for action the minute we arrive. Upon arrival we drop the pots and pray for success.
What keeps our focus is the amazing taste of a fresh Dungeness crab that you yourself have caught that very day. Catch it at noon and dinner is served. Yummy! All summer long there is an on-going competition between ourselves and the commercial fisherman. Have they already harvested all of the crab? Can we max out on the daily quota? Seems like only the small ones are left… (Did you know that it takes 11 years for a Dungeness crab to reach it's adult harvesting size – we have more respect for these creatures now that we know this.) One more drop will surely put us over the top. If not, it's because the commercials have taken all of our beloved crab… Oh well. We'll still enjoy our day's spoils tonight.
The last day of crabbing, September 30, is always a sad day for us. It marks the end of summer and the end of our fun-filled excursions out onto the Bay. But not this year – we have more time. We aren't sure how many more times we will make it out for the remainder of this season, but it is great to know that if the day is a wonderful weather day we can head out and catch one of our beloved crabs for dinner which is really only earmarked for summer. Enjoy!