As we ring in the new year, it is a great time to evaluate where your hard-earned dollars are going each month and whether there is a way to decrease the outflow. One such way is to take a look at your current water heating system and it's functionality. Does it need to be replaced? Should it be upgraded? The information below (provided by Jefferson Livingston owner of Pillar to Post in Bellingham) may be useful in helping you determine what is right for you.
WATER HEATING & ENERGY USE Given that as much as 25% of household energy costs are for water heating, it makes sense to evaluate various types of water heating systems with an eye toward saving both energy and money. Here we take a look at some of the options currently available for homeowners to consider.
Storage Water Heaters These are the most common type of water heater. In these systems, cold water flows into a tank where it is heated by gas or electric power. Once the water in the tank reaches the desired temperature, the heater will cycle on and off to maintain the temperature of the water. As hot water gets used, more cold water will enter the tank to be heated. Most of us know the phenomenon of running out of hot water after family members take one shower after another; this will occur if the tank's storage capacity is insufficient to meet the demand. At other times of the day when relatively little or even no hot water is being used, the heater must still fire on and off to keep the contents of the tank hot. Unfortunately, it is quite inefficient to keep a tank of water hot all day even when the water isn't needed. Adding an insulated water heater wrap can boost efficiency and energy savings – these are inexpensive and can be installed by the homeowner.
Tankless (Demand) Water Heaters Tankless or demand water heaters are just that. Water is not stored in a tank, but is rapidly heated by gas or electricity once the faucet is turned on. For many homes, a tankless heater can be located close to the sink or shower to heat water on the spot. Because it reaches the desired temperature so quickly, much less water is wasted while waiting for hot water to flow through the faucet. Tankless heaters powered by gas are usually much more efficient than electric heaters – in fact, electricity costs can sometimes negate much of the savings a tankless system might otherwise provide. Tankless systems normally cost more than a conventional storage water heater, so homeowners should research what type, size, and location makes the most sense for them.
Solar Water Heating The basic concept of solar water heating is that the sun's energy is used to pre-heat water for the home. The pre-heated water then flows into a solar tank that monitors temperature. Then it is piped into the regular hot water system, usually a storage water heater. If no water is turned on within a brief period of time, the water circulates through the system again, making it unnecessary to keep a large tank of water constantly hot. The pre-heating is done by one or two solar panels, usually installed on the roof. Solar water heating is becoming more and more popular as costs for the systems continue to decrease. By some accounts, including the California Energy Commission, a typical solar water heating system can pay for itself in as little as four to seven years.
No matter what type of water heating homeowners choose, it pays to do some research first to discover the ins and outs of various types for their specific situation. With efficiency and decreased energy use as a goal, the best choice of water heater depends on what pencils out in any given home.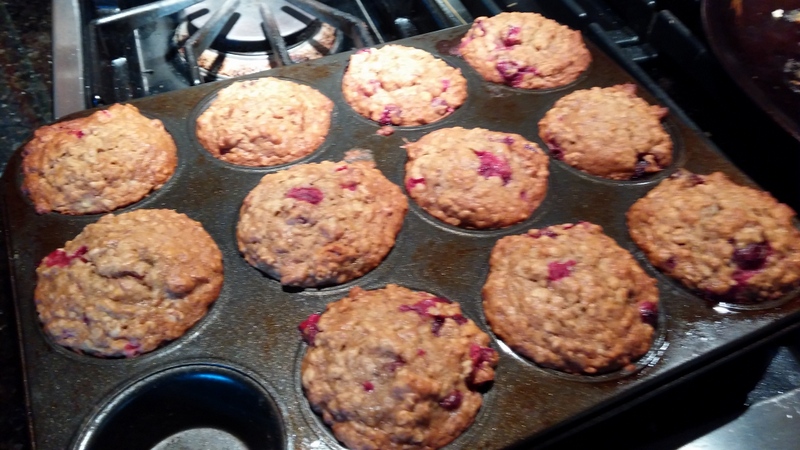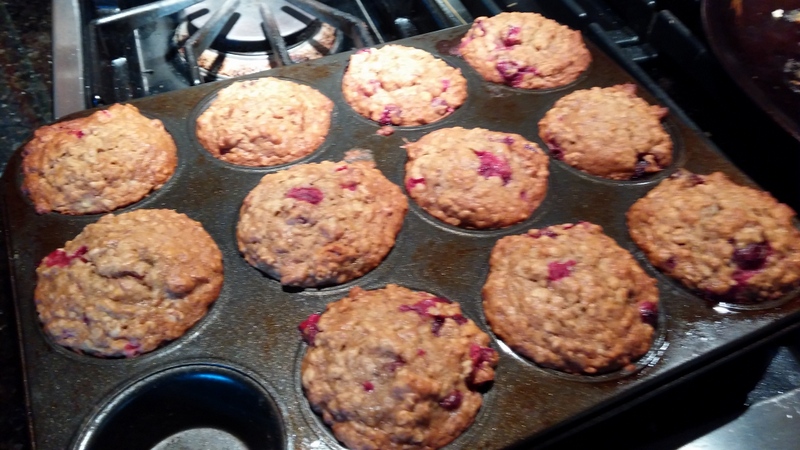 Just a quick post to share with you the most amazing banana muffin recipe I've come across ever.  Loaded with flavor, the cranberries give a tanginess to the traditional banana taste that my family cannot get enough of.  The added oats give huge texture, as well as doctor recommended fiber.  Taken from food.com, I've added a few ingredients of my own.  Enjoy!
Ingredients:
1 1/4 cups all-purpose flour
1 cup oats
1 1/2 teaspoons baking powder
1 teaspoon baking soda
1/2 teaspoon Cinnamon
1/2 teaspoon salt
2/3 cup sugar or 1/2 cup agave syrup
1 egg
1 3/4 cups mashed ripe bananas (5-6 bananas)
1/3 cup butter melted
1/4 pecan pieces
1 cup cranberries
Directions:
Combine dry ingredients. Mix well. Beat together egg, bananas, syrup (if used instead of sugar) and melted butter until smooth. Add to dry ingredients. Stir to blend. Stir in pecans & cranberries until combined. Spoon batter into muffin tins sprayed with pan spray. Bake at 375 degrees for 20-25 minutes or until the top springs back when lightly touched.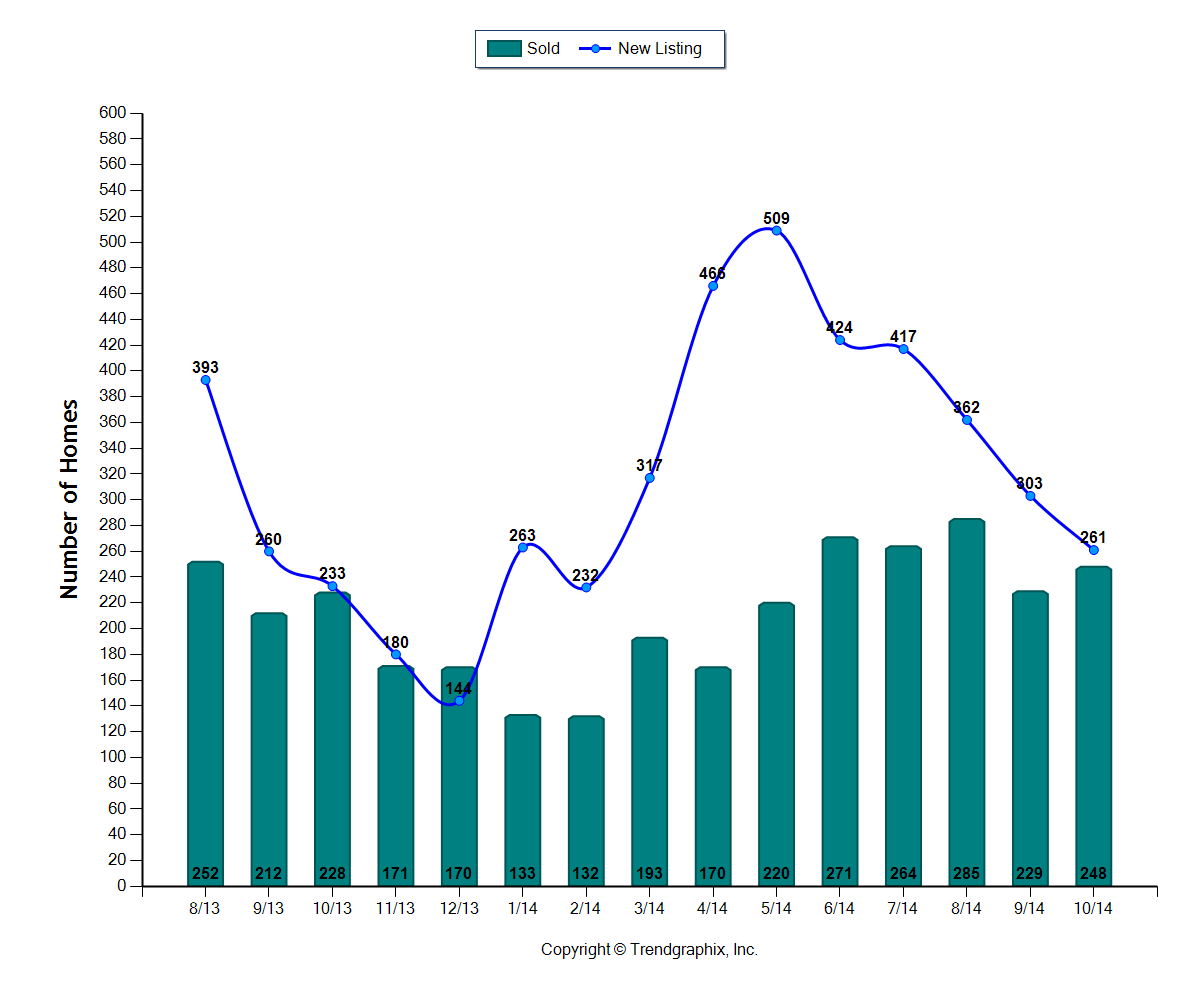 Yes. You heard me correctly. New listings are needed now throughout Whatcom County! Contrary to the belief that real estate sales stop during the holidays, there are actually people out in search of their next home right now. I was with two different families yesterday and sadly, we were very limited in the number of homes we could view. And so our search continues…
What typically happens this time of year is that real estate is forgotten by most people while they turn their attentions to the holiday at hand – the Christmas season. The number of people putting their homes on the market drops by about 50 percent this time of year. However, the number of those homes selling during this same time only drops by 25 percent, creating an inventory void. Take a look at the chart below which illustrates this from our local Multiple Listing Service.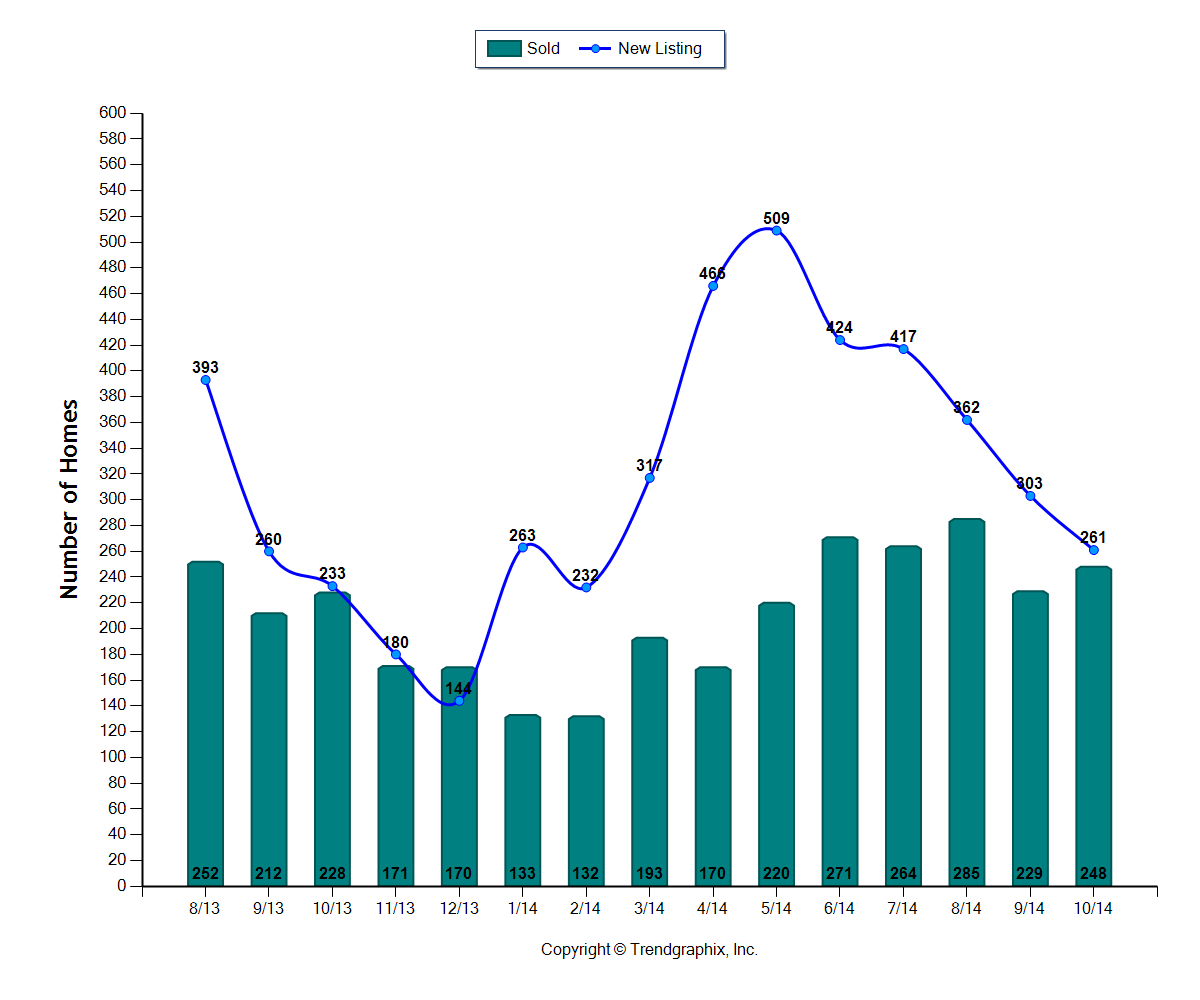 This void in housing choices for those looking to buy can create an opportune time for home sellers to list and sell their home. So if you are toying with the idea of listing your home for sale, you don't need to wait until spring like everybody else. Give me a call today to move forward on listing your home now to take advantage of this inventory void. Let's make it happen!
Now that Thanksgiving and Black Friday are firmly behind us, we can turn our attention to one of the most recognized and celebrated holidays of the year – Christmas! Although extended family is far away, we just love Christmas around our home. We never forget that Christmas is about baby Jesus, however we have established traditions within our immediate home that help us celebrate this time of year. Most importantly being the selection of the Christmas tree.
What type? Size? Where do we get it from – pre-cut at the store or chop it down ourselves? Our tradition has become to bundle up with the kids, jump in the SUV and head north to chop a tree. We don't have to go very far – 3-5 miles takes us to tree country. After all we live in Washington state where trees grow out of the sides of rocks! Mom and pop tree farms abound in our county, so the variety is wonderful. Year after year, we have been drawn to the Balsam Fir tree which has branches that are spaced out to give an ample amount of room for my long ornaments. Once we get to the farm, we scour the lot for the perfect tree to host my wide selection of ornaments. And it must be tall. Oh yes. Taller than the house is usually the way we fly. Once in sight, watch out! The boys are laser focused on falling that tree for harvest. Now that they are older, it takes mere minutes to get the tree dropped. It's another thing to get the tree from the forest to the top of our car. The tree is big and awkward, and stumps are everywhere that you can't see so much stumbling is witnessed. And when we do finally make it to the car, there is always the wonderfully gracious owner to help you hoist the tree up onto the roof (make sure it is faced in the correct direction of travel) and tie it down for travel.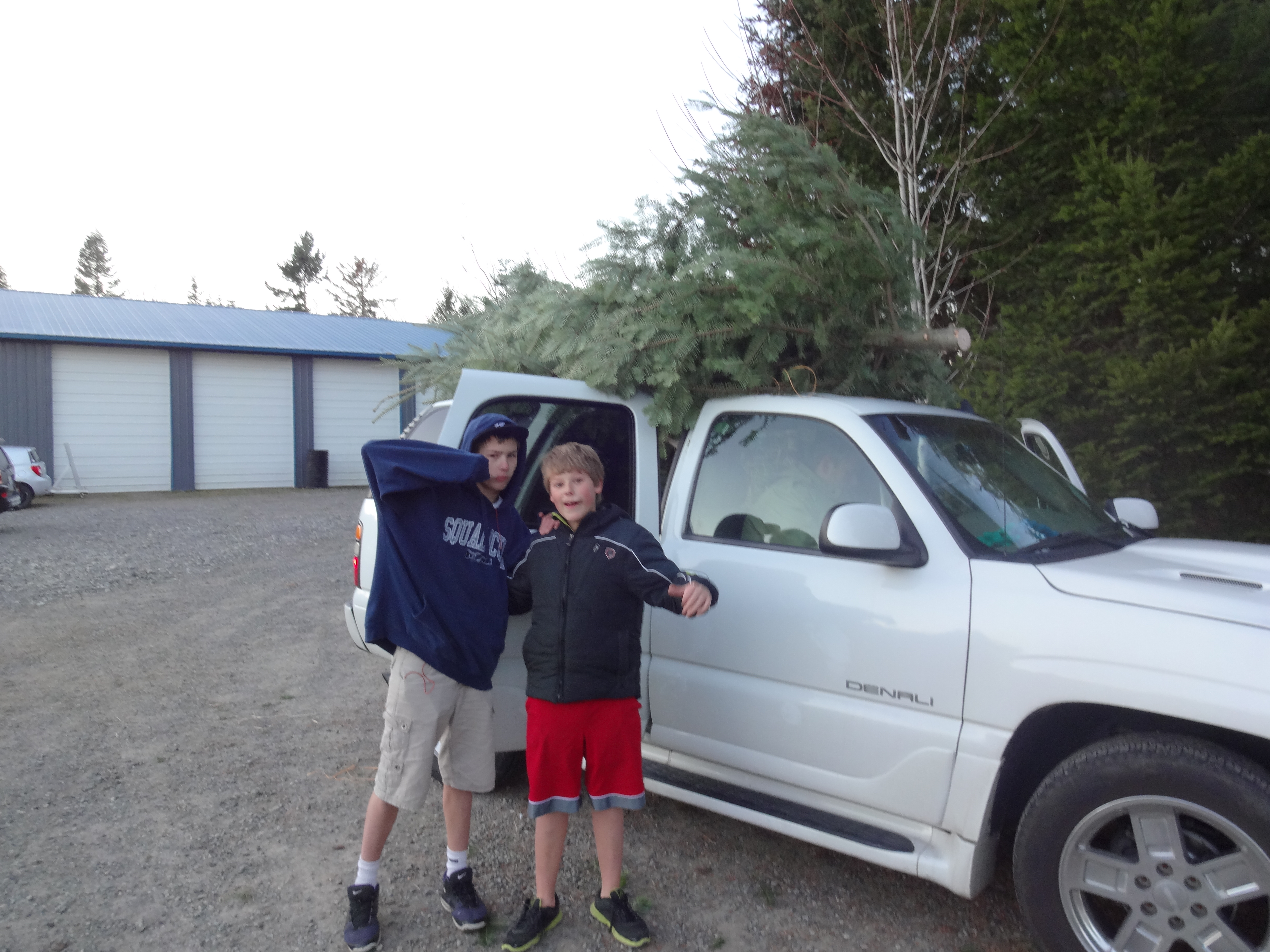 Like the shorts????
Once home, it's all about sizing up the tree to fit our home. Undoubtedly the tree is taller than we can fit, so we'll need to give it a trim. I've also learned that it is better to strap the tree to the wall rather than have someone pull the tree down once it is decorated. Yes, this has happened… We listen to Christmas music and have warm drinks while we take great pleasure in decorating the tree.
So now that you've heard our story, let me give you some advice from the experts on choosing a tree.
Decide where to place your tree – Avoid placing your tree by a heat source (sunny windows, radiators, heating vents, and fireplaces)
Measure twice – what will fit in your home and where
Take a Tape & Heavy Gloves – whether you are cutting the tree yourself or going to the local store, you'll need to know what will fit in your home and have gloves to protect your hands to lift the tree up onto your vehicle
Select a fresh tree – obviously there is no need to worry about this when cutting your own tree, however, store-bought trees should have needles that look shiny, green, and fresh
Transporting the tree – if not within your vehicle, make sure it is securely attached to your car via rope or twine. Also if on the roof, make sure the trunk is at the windshield and the tip at the back. This will provide less wind resistance on your drive home
With all of this in mind, have a wonderful time choosing your tree and more importantly, a Merry Christmas.
Home ownership is a wonderful thing. To have the ability to invest your hard-earned dollars into something that potentially will pay you a premium in the future is fantastic. The tax advantages that homeownership has to offer are also amazing. We'll save this for another time. But along with this terrific opportunity comes the massive responsibility of home maintenance.
Having been in real estate sales forever (over 24 years), there is one really solid piece of advice that I can give to you and every homeowner out there. Stay on top of your home maintenance. Here in the Pacific NW there are specific things that really should be done each year and the fall is the time to make sure these things get done so that winter doesn't become a downer.
First and foremost, get your furnace serviced. This should be done each year without exception. It helps your heating system run much more efficiently and can cut down on your heating bills. Can you think of anything worse than having a snowy cold day outside and not having a furnace to heat your home inside? It happens every winter to people throughout Whatcom County and it's a really uncomfortable place to be. Servicing a furnace usually runs around $100 and is well worth the investment. And while they are there, have the company service any gas fireplaces you have in your home. It can cost you much more if you wait until something goes wrong.
Get your roof treated. Yes, we north westerners always joke about us getting so much rain that moss grows on our heads. Maybe that's not entirely true, but there is no doubt that it grows on our roofs and can cause major damage. If left untreated, as it grows the moss will edge roof shingles upward allowing for water intrusion and roof compromise. I am by no means promoting that you yourself get up on your roof and treat the roof yourself. Falling off of your roof can be extremely harmful – even deadly. Hire a licensed professional to come out and apply the necessary treatment. Again, maintenance is much cheaper than replacing a roof long before its advertised lifespan.
And lastly don't forget to cover your exposed pipes, hose bibs and foundation vents. Avoid burst pipes and the damage that comes with them from those cold northeastern winds that we experience in Whatcom County each winter. Inexpensive foam piping sleeves and Styrofoam vent & hose bib covers can be purchased at your local home improvement stores. A burst pipe can cause thousands of dollars of damage if left unnoticed. Don't make this mistake.
Staying on top of your home maintenance will make life easier while living in your home or when you get ready to sell your home. There is enough already to worry about when you are going to sell your home. And if you're ready to sell, you know to who to call – ME!
You know when summer is coming to a close in Whatcom County because the wild blackberry fruit starts to shrivel, mornings are misty and the giant maple leaves begin to turn color & fall gracefully to the ground.  It's such a wonderful time of the year for many reasons – we each have our own opinion.  I think for me it is the vibrant exchange of color from the gorgeous fiery sunsets to the change of color among the various plants.
This time of year also means it's time to get our yards ready for winter.  It's important to give your lawn a fighting chance to make it through what can be tough winters in the NW with our massive rainfall and sometimes heavy snow.   Taking some time this fall to get your lawn in shape with the steps below will pay you dividends in the spring with a much healthier lawn and less work to do in your yard. (Especially if you plan on listing your home for sale in the spring.)
1. Fertilization
2. Aeration
3. Mowing
4. Leaf & Debris Clean Up
For a full description of why each of these are important, take a look at the website at www.mainstreamlm.com/winterizing-your-lawn-in-the-pacific-northwest.
Cheers! Leslie
Your Realtor of choice in any market…
Okay.  So I confess that I haven't been the most tech savvy Realtor so far.   My career in real estate started back in 1990 (the olden days) when there weren't any cellular phone, and fax machines (if you had one) used thermal paper.  Does anybody remember that?  And how thermal paper faded over time?  Not great for keeping records of contracts and supporting documents. I am now taking this very first proactive step of writing a blog with the goal of reaching out to more people via the WWW.  Sounds like fun eh?  I ask that you please bear with me as I learn and grow on your time.  Maybe we can grow together.
Although I have always had some interest in real estate thanks to my auntie Sharon, it was never my intention to end up as a Realtor.  After graduation from Cal Berkeley in International Political Economies, I had my sights set on being a top paid executive of an international company such as P & G or General Electric.   Traveling to and fro – jet setting.  Instead I ended up meeting Adrian while in Hawaii (yeah), and this changed my master plan forever.  Love does that to you, you know?  My Canadian sweetie drew me up to the Pacific Northwest in 1989, and I have been here ever since and never regretted it.
Since there was no demand for a top paid executive in Blaine (without any experience I must add), I began to explore the idea of what the heck else I could do with my education, sales and marketing experience.  How about sell real estate!   I set about getting the education for my license in Lynnwood where I happened to be in the class with the future managing broker for Resort Properties of Resort Semiahmoo Bob Nott.  Yes, you can put two and two together to figure that I began at Semiahmoo at the same time as Broker Bob.  He had loads of experience and I did not.  Which brings me to my first blog subject of whether agent experience is the most important thing when seeking a real estate professional to work with.  After all, buying and/or selling real estate is one of the most important transactions you will ever engage in.
Experience is a good thing – a very good thing.  But experience on it's own does not make for a better real estate agent.  Experience must be met with passion, determination and people skills.  Fortunately for real estate agents, there are many places to seek council regarding rules, regulations, etiquette and ethics.  And the internet creates an immediate source of information that wasn't available in years past.  Then there is always the age old practice of "boots on the ground" – going to the source for information in person.
Consider it a great use of your time to do some research on the real estate agents that you are thinking of hiring before you do.  Again, the web is a terrific place to start.  But don't just stop there.  Interview the agents to see if there is chemistry.  Also, call on past clients to see if they would use that agent again and recommend them to you.  This little bit of foot work can save you many sleepless nights and much anxiety.  In the end, you need someone that you can confide and trust in during this journey.  What do you think is most important?  I'd like to hear from you.
Let's make it happen – Leslie