Now that Thanksgiving and Black Friday are firmly behind us, we can turn our attention to one of the most recognized and celebrated holidays of the year – Christmas! Although extended family is far away, we just love Christmas around our home. We never forget that Christmas is about baby Jesus, however we have established traditions within our immediate home that help us celebrate this time of year. Most importantly being the selection of the Christmas tree.
What type? Size? Where do we get it from – pre-cut at the store or chop it down ourselves? Our tradition has become to bundle up with the kids, jump in the SUV and head north to chop a tree. We don't have to go very far – 3-5 miles takes us to tree country. After all we live in Washington state where trees grow out of the sides of rocks! Mom and pop tree farms abound in our county, so the variety is wonderful. Year after year, we have been drawn to the Balsam Fir tree which has branches that are spaced out to give an ample amount of room for my long ornaments. Once we get to the farm, we scour the lot for the perfect tree to host my wide selection of ornaments. And it must be tall. Oh yes. Taller than the house is usually the way we fly. Once in sight, watch out! The boys are laser focused on falling that tree for harvest. Now that they are older, it takes mere minutes to get the tree dropped. It's another thing to get the tree from the forest to the top of our car. The tree is big and awkward, and stumps are everywhere that you can't see so much stumbling is witnessed. And when we do finally make it to the car, there is always the wonderfully gracious owner to help you hoist the tree up onto the roof (make sure it is faced in the correct direction of travel) and tie it down for travel.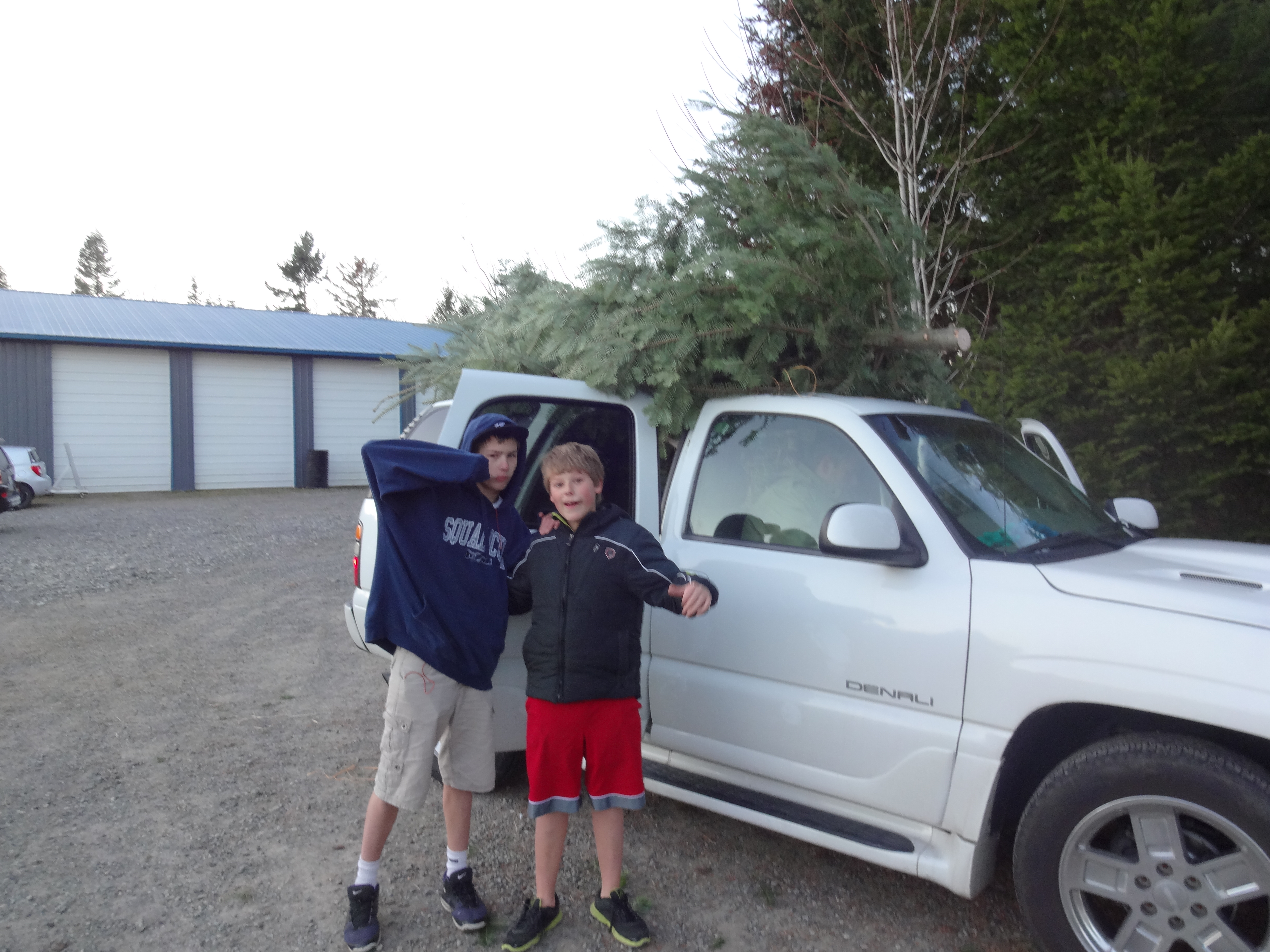 Like the shorts????
Once home, it's all about sizing up the tree to fit our home. Undoubtedly the tree is taller than we can fit, so we'll need to give it a trim. I've also learned that it is better to strap the tree to the wall rather than have someone pull the tree down once it is decorated. Yes, this has happened… We listen to Christmas music and have warm drinks while we take great pleasure in decorating the tree.
So now that you've heard our story, let me give you some advice from the experts on choosing a tree.
Decide where to place your tree – Avoid placing your tree by a heat source (sunny windows, radiators, heating vents, and fireplaces)
Measure twice – what will fit in your home and where
Take a Tape & Heavy Gloves – whether you are cutting the tree yourself or going to the local store, you'll need to know what will fit in your home and have gloves to protect your hands to lift the tree up onto your vehicle
Select a fresh tree – obviously there is no need to worry about this when cutting your own tree, however, store-bought trees should have needles that look shiny, green, and fresh
Transporting the tree – if not within your vehicle, make sure it is securely attached to your car via rope or twine. Also if on the roof, make sure the trunk is at the windshield and the tip at the back. This will provide less wind resistance on your drive home
With all of this in mind, have a wonderful time choosing your tree and more importantly, a Merry Christmas.
Posted on November 30, 2014 at 3:52 am
wpadmin
Category:
Uncategorized
Tagged

balsam fir, best christmas tree, christmas, chrsitmas tree farm, family, holidays, jesus, pacific northwest, real estate, real estate agent, traditions, tree farms, whatcom county, windermere, winter
A local treasure nestled on the outskirts of Everson by the name of Stoney Ridge Farms closed for the fall harvest season this past weekend.  We discovered this wonderful family focused destination ten years ago when a school field trip took the class of our older boy out to explore their great pumpkin patch. Since then, it has become our family tradition year after year.
---
So many things bring us back each year, but I feel that the main reason is the overall joy of being together as a family.  When the boys were young, the mini animal farm amazed them with cuddly little creatures from lop-eared bunnies to baby goats.  The resident donkey always brings a smile to their faces.  The king of the show each year is the goat that walks along high rising planks to reach a platform overlooking the farm where patrons deliver yummy treats to him via a can/rope system.  He will stand up on that small platform high in the sky for hours it seems, or at least as long as the snacks continue arriving.
Then as the boys got older it was for the tasty homemade treats that called to us – warm pumpkin donuts, piping hot apple pie and the flavorful apple cider.   But at the end of the day, they really do have some terrific pumpkins and gourds to choose from.  You can either stroll through the pumpkin fields yourself with a wheel barrel that is provided or stop in their market on the way out to pick out a polished pumpkin.  Either way these pumpkins have been adorning our doorstep for the past ten years.
Although it is too late this season for the pumpkin patch, they do open again for the Christmas season.  They offer Christmas trees, homemade wreaths, local crafts and again their famous pies.  Watch their website for opening day and begin making this YOUR family tradition.   http://stoneyridgefarm.com/index.html