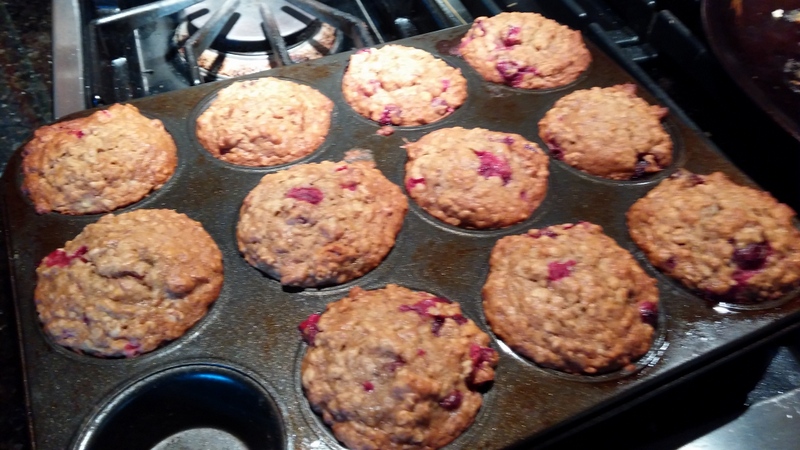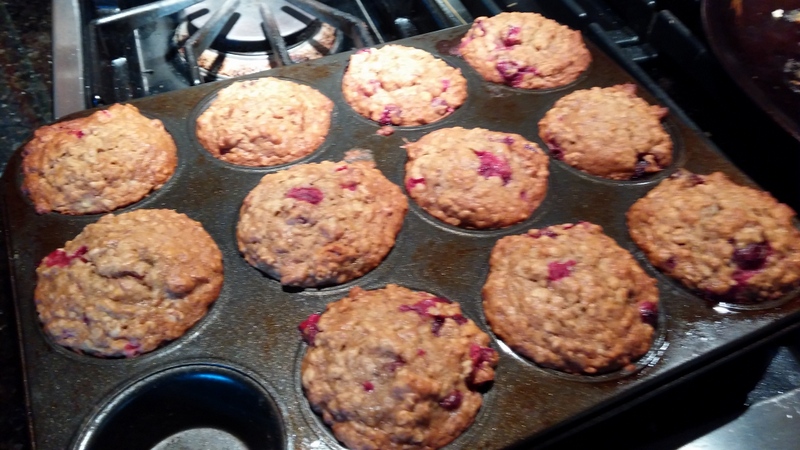 Just a quick post to share with you the most amazing banana muffin recipe I've come across ever.  Loaded with flavor, the cranberries give a tanginess to the traditional banana taste that my family cannot get enough of.  The added oats give huge texture, as well as doctor recommended fiber.  Taken from food.com, I've added a few ingredients of my own.  Enjoy!
Ingredients:
1 1/4 cups all-purpose flour
1 cup oats
1 1/2 teaspoons baking powder
1 teaspoon baking soda
1/2 teaspoon Cinnamon
1/2 teaspoon salt
2/3 cup sugar or 1/2 cup agave syrup
1 egg
1 3/4 cups mashed ripe bananas (5-6 bananas)
1/3 cup butter melted
1/4 pecan pieces
1 cup cranberries
Directions:
Combine dry ingredients. Mix well. Beat together egg, bananas, syrup (if used instead of sugar) and melted butter until smooth. Add to dry ingredients. Stir to blend. Stir in pecans & cranberries until combined. Spoon batter into muffin tins sprayed with pan spray. Bake at 375 degrees for 20-25 minutes or until the top springs back when lightly touched.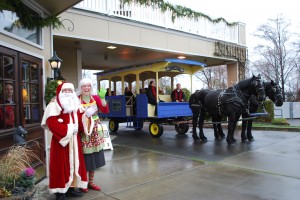 Not only are we blessed with a beautiful place to live, but one that really envelops the spirit of the Christmas season with many things to see and do.  Below is a brief list of events over the weekend of December 5th-7th that you and your family might enjoy taking part in.  A full description of each event can be found at http://www.bellingham.org/insider-blogs/holiday-events-in-whatcom-county/ thanks to Annette Bagley of Bellingham Whatcom County Tourism .
Dec 5th – Downtown Bellingham Tree-lighting and Art Walk starting at 5:30
Dec 5-7th – Holiday Port Celebrations – times vary; more at http://portofbellingham.com/141/Holiday-Port/
Dec 6th – Lynden Lighted Christmas Parade starting at 6:00 – more at http://lynden.org/
Dec 6, 13 & 20th – Free Horse Drawn Carriage Rides and Santa in Fairhaven  – noon to 3; more at http://www.fairhavenvillageinn.com/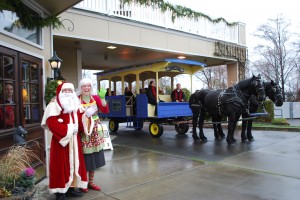 Dec 5-7th – Old Fashioned Christmas in Ferndale – times vary; more at http://ferndaleheritagesociety.com/events.php#oldFashionedChristmas
Dec 5-7th – Holiday Harbor Lights in Blaine – times vary; more at http://blaineholidayharborlights.com/
Dec 13 – Jingle Bell Run/Walk for arthritis – pre-registration and day of event information at http://www.kintera.org/faf/home/default.asp?ievent=1111851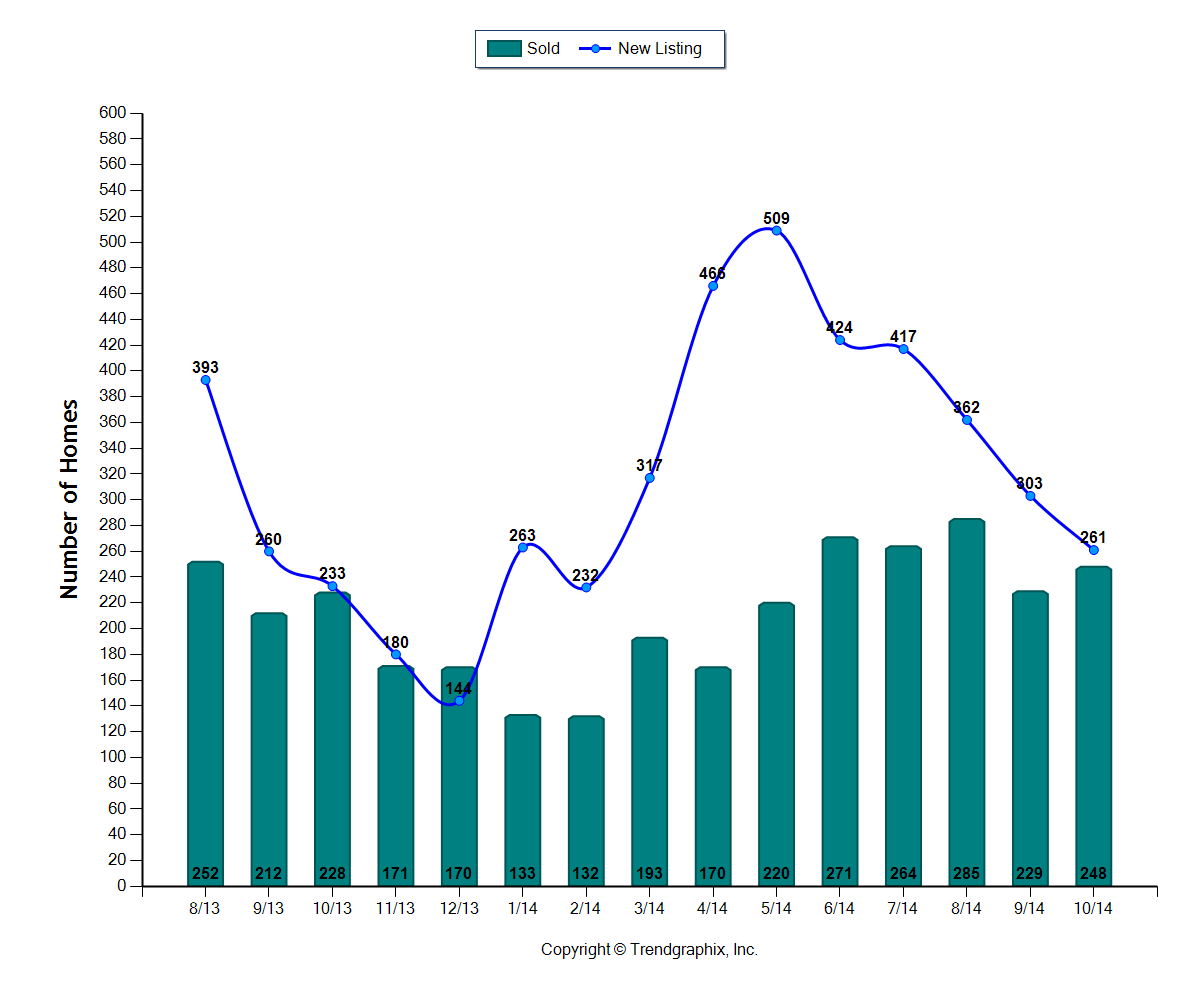 Yes. You heard me correctly. New listings are needed now throughout Whatcom County! Contrary to the belief that real estate sales stop during the holidays, there are actually people out in search of their next home right now. I was with two different families yesterday and sadly, we were very limited in the number of homes we could view. And so our search continues…
What typically happens this time of year is that real estate is forgotten by most people while they turn their attentions to the holiday at hand – the Christmas season. The number of people putting their homes on the market drops by about 50 percent this time of year. However, the number of those homes selling during this same time only drops by 25 percent, creating an inventory void. Take a look at the chart below which illustrates this from our local Multiple Listing Service.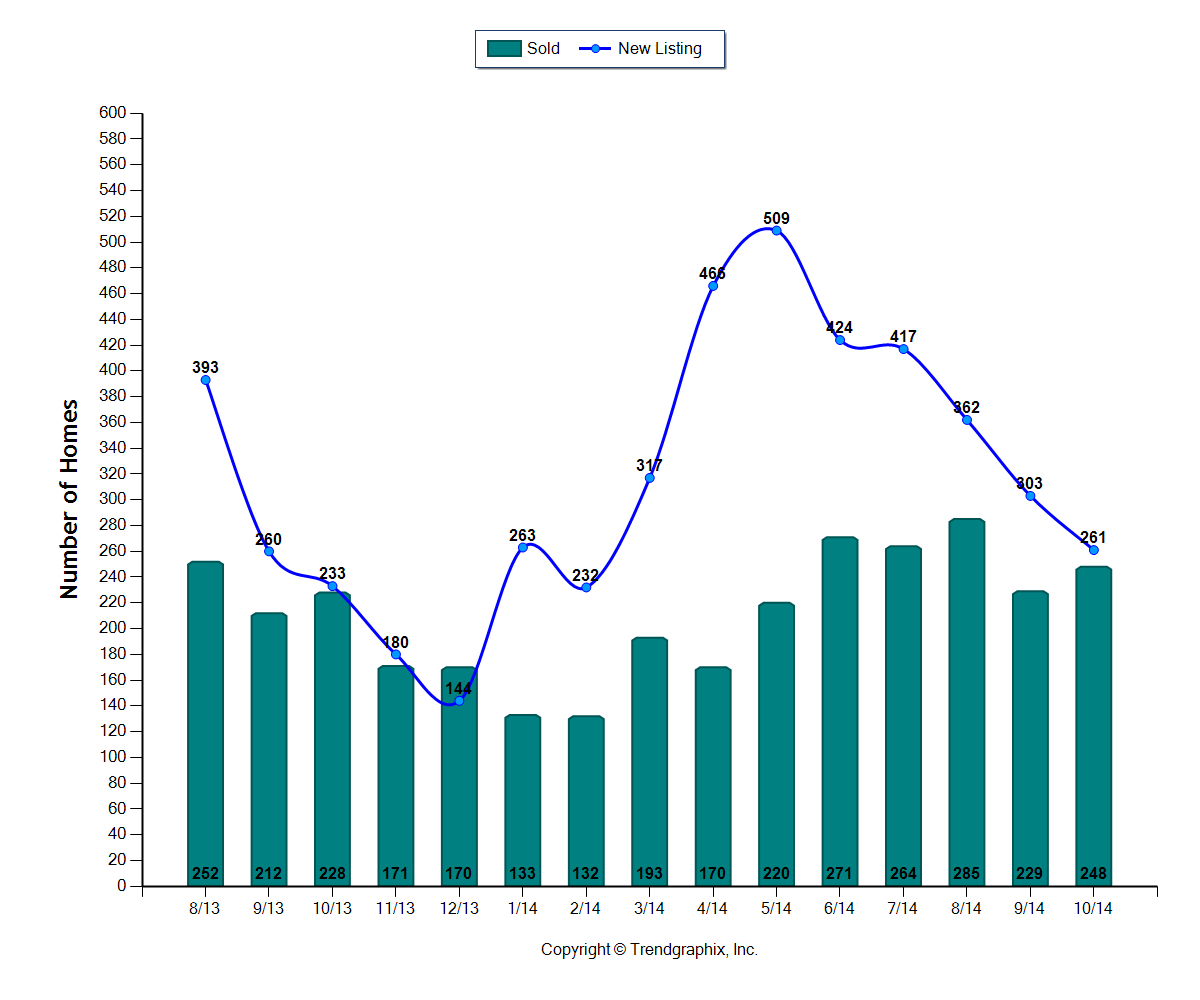 This void in housing choices for those looking to buy can create an opportune time for home sellers to list and sell their home. So if you are toying with the idea of listing your home for sale, you don't need to wait until spring like everybody else. Give me a call today to move forward on listing your home now to take advantage of this inventory void. Let's make it happen!
Now that Thanksgiving and Black Friday are firmly behind us, we can turn our attention to one of the most recognized and celebrated holidays of the year – Christmas! Although extended family is far away, we just love Christmas around our home. We never forget that Christmas is about baby Jesus, however we have established traditions within our immediate home that help us celebrate this time of year. Most importantly being the selection of the Christmas tree.
What type? Size? Where do we get it from – pre-cut at the store or chop it down ourselves? Our tradition has become to bundle up with the kids, jump in the SUV and head north to chop a tree. We don't have to go very far – 3-5 miles takes us to tree country. After all we live in Washington state where trees grow out of the sides of rocks! Mom and pop tree farms abound in our county, so the variety is wonderful. Year after year, we have been drawn to the Balsam Fir tree which has branches that are spaced out to give an ample amount of room for my long ornaments. Once we get to the farm, we scour the lot for the perfect tree to host my wide selection of ornaments. And it must be tall. Oh yes. Taller than the house is usually the way we fly. Once in sight, watch out! The boys are laser focused on falling that tree for harvest. Now that they are older, it takes mere minutes to get the tree dropped. It's another thing to get the tree from the forest to the top of our car. The tree is big and awkward, and stumps are everywhere that you can't see so much stumbling is witnessed. And when we do finally make it to the car, there is always the wonderfully gracious owner to help you hoist the tree up onto the roof (make sure it is faced in the correct direction of travel) and tie it down for travel.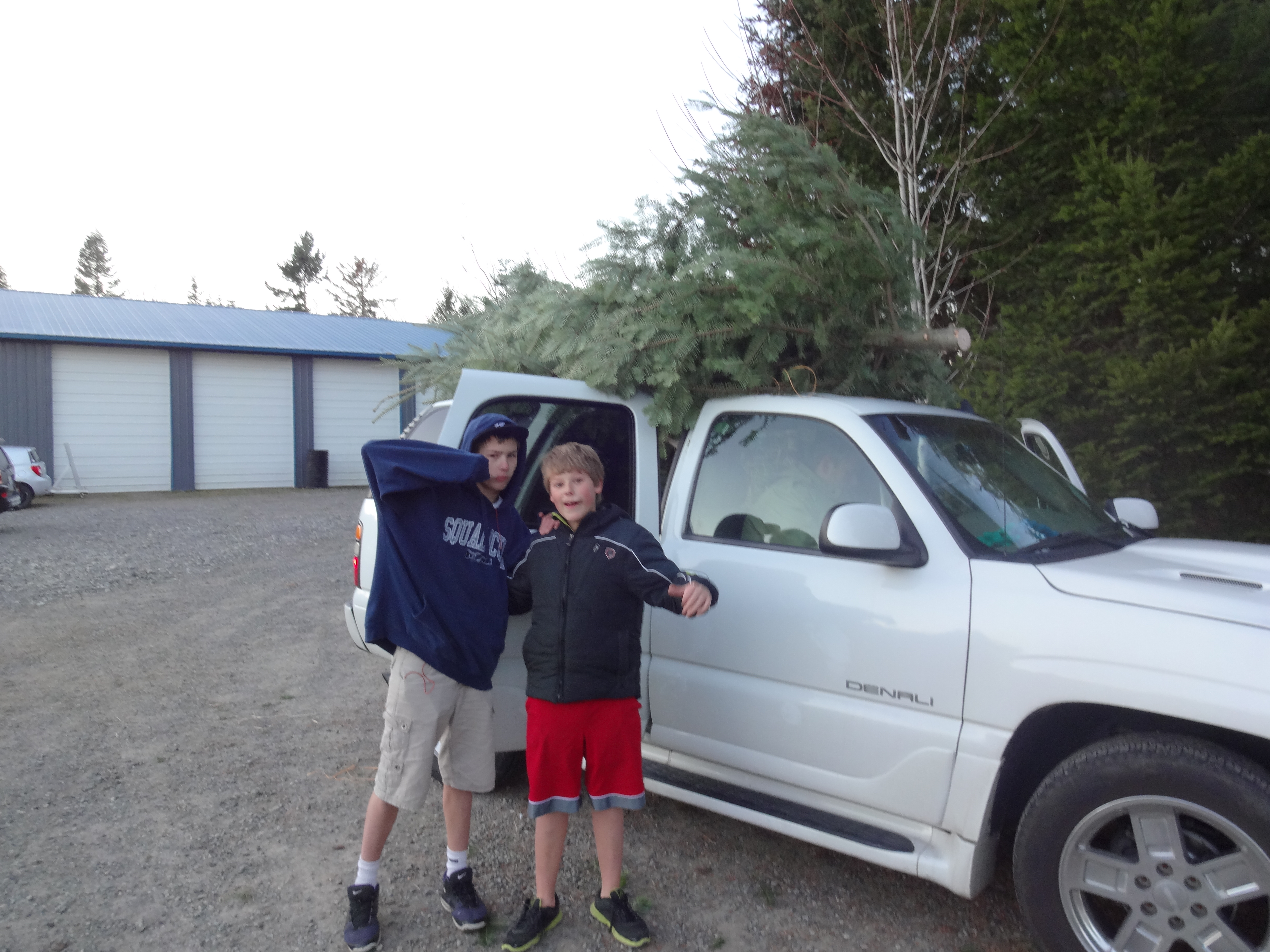 Like the shorts????
Once home, it's all about sizing up the tree to fit our home. Undoubtedly the tree is taller than we can fit, so we'll need to give it a trim. I've also learned that it is better to strap the tree to the wall rather than have someone pull the tree down once it is decorated. Yes, this has happened… We listen to Christmas music and have warm drinks while we take great pleasure in decorating the tree.
So now that you've heard our story, let me give you some advice from the experts on choosing a tree.
Decide where to place your tree – Avoid placing your tree by a heat source (sunny windows, radiators, heating vents, and fireplaces)
Measure twice – what will fit in your home and where
Take a Tape & Heavy Gloves – whether you are cutting the tree yourself or going to the local store, you'll need to know what will fit in your home and have gloves to protect your hands to lift the tree up onto your vehicle
Select a fresh tree – obviously there is no need to worry about this when cutting your own tree, however, store-bought trees should have needles that look shiny, green, and fresh
Transporting the tree – if not within your vehicle, make sure it is securely attached to your car via rope or twine. Also if on the roof, make sure the trunk is at the windshield and the tip at the back. This will provide less wind resistance on your drive home
With all of this in mind, have a wonderful time choosing your tree and more importantly, a Merry Christmas.